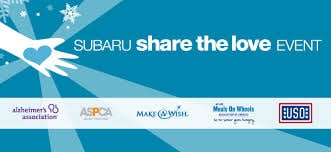 It may just sound like good public relations and a way to gain a little notoriety on the back of feel-good news, but when an automaker steps up to donate $10 million in a single year to charities, it transcends fluff. That's what Subaru has done in its fifth "Share the Love" promotion, combining for a total of $25 million.
All of that money benefits charities like the ASPCA, Make-A-Wish Foundation, Meals on Wheels, National Park Foundation, and Teach for America. Subaru also allows dealers to add a sixth local charity from which to choose.
From November 21, 2013, to January 2, 2014, Subaru will give new-car buyers the option to have $250 donated to whichever of the six charities they choose. Since Subaru has been picking up a good chunk of market share over the last few years, "Share the Love" has grown exponentially.
The cold months are typically some of the slower sales months and a time when you don't always actively think of donating money to the aforementioned organizations. "Share the Love" makes it almost subconscious.
The only thing that'd be more feel-good would be to have a high-school band playing on-hand while a mayor kisses babies, and to be barraged with balloons and confetti.
"We are excited to be able to share more love with more charities--including the charities in our owners' backyards," said Subaru chief marketing officer Dean Evans in a statement. "By the end of this year, Subaru and Subaru owners will have given $35 million to diverse and worthy causes."
Yeah, car companies are corporate monoliths, oftentimes hellbent solely on profits. But doesn't it feel good to know that sometimes they do give back? And when they give back, they give back big time