What is Subaru X-Mode and how does it work?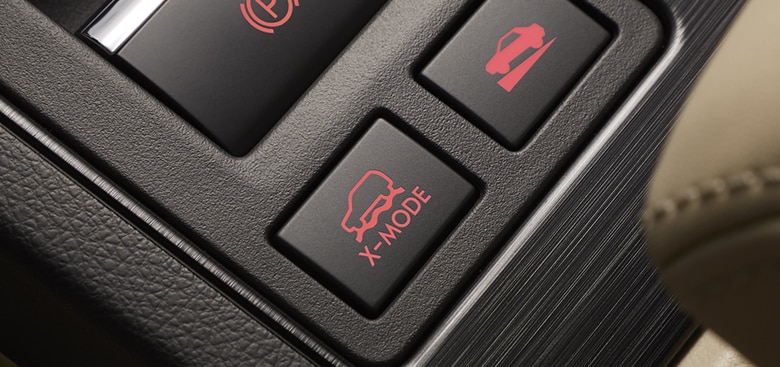 One button elevates driving confidence and provides advanced, SUV-like control. The all-new X-Mode brings a whole new meaning to security and peace of mind, regardless of how rough or slippery a road may be as it works to coordinate the engine, transmission, Symmetrical AWD and brakes to safely drive over almost any type terrain.

Hill Descent Control
X-Mode assists in those cases where the vehicle starts moving faster as it drives downhill, like when driving down snowy roads or gravel slopes. Hill Descent Control maintains the vehicle's speed so the driver can focus more on steering.
Pressing the X-Mode switch activates 5 different forms of control to limit slipping tires:
1. Engine Throttle
In normal driving, when the driver steps on the accelerator pedal, the engine throttle opens up, however X-Mode is designed so that the throttle doesn't open too quickly. If the driver presses the accelerator further, the engine then delivers torque faster. X-Mode employs special settings that deliver torque gradually at first, but then makes it come on stronger.
2. Transmission
X-Mode keeps transmission in a lower gear so that engine power can be delivered stronger. This shifting pattern, while X-Mode is ON, lets the driver make the most of the power that is available.
3. All Wheel Drive
AWD control is improved by raising the front/rear coupling force when X-Mode is ON, which helps the driver drive power more evenly between the four wheels. This maximizes the traction of the tires.
4. Vehicle Dynamics Control System
The VDC system, when X-Mode is ON, includes a specially-tuned "Enhanced LSD Control". For example, if the left and right wheels are behaving differently, the system applies brakes only to wheels that are slipping. Compared to ordinary operation, the brakes are applied a lot earlier when X-Mode is ON, resulting in LSD control activating much faster.
5. Hill Descent Control
At low speeds (under 12 mph) Hill Descent Control helps maintain vehicle starting speed for safer maneuvering--the car itself manages the throttle and breaking allowing the driver to fully concentrate on steering.
---
 

Two pictures of X-Mode display





 

X-Mode display in dash






X-Mode buttons near shifter. 


 
X-Mode buttons close up.

---

Goal of X-Mode:  increase traction and control under the most vicious road conditions.

Subaru's legendary all wheel drive system will get you out of dicey situations where other mortal vehicles would strand you, but X Mode works in addition to the all wheel drive system to give you even greater traction and control. 
 
Optional on the Forester and standard on Outback, Subaru X Mode is a software program engineered to get you up and down vertiginous terrain.


X-Mode uses lower gear ratios to generate extra power at the wheels that have grip


X-Mode deactivates the transmission's lock-up clutch to better direct power to slipping wheels


X-Mode makes the traction control system extra sensitive so that it intervenes earlier during wheel slippage



X-Mode employs "Hill Descent Control" so you don't need to apply brakes and risk locking them up when headed down steep slopes.